WintherStormer invites in cooperation with Notam to the 10th Norwegian analogue synth and synth-DIY gathering on Saturday, 29th of October 2016, at Notam 11am – 5pm.
We invite all of you with an interest in analogue synthesizers, ready built or/and made by yourself, for a meetup at Notams premises in Oslo. Bring a synth or two, a headset, and meet like-minded people.
In addition, the day after there will be a synth-concert with WintherStormer and support: Øivind Olsen at Mir 6:30 – 9:00pm. (After the concert there is the sunday special "Open Record Player" at Mir where you may bring your own vinyl, cd, USB-stick or a cassette deck, then play your favourite music for an open audience.)
Analogue synthesizers
had their first heydays in the 60/70s with the well known brands Moog, ARP, Roland, Oberheim and Korg. The analogue synths got replaced during the digital revolution in the 1980ies, but have got their big revival the later years. Today there are a lot of people using, playing, building and loving analogue synthesizers, and surprisingly enough: There are currently many more manufacturers of analogue synthesizers than in the 60/70s. This applies to both the large modular systems, as well as more compact pre-built synthesizers. The Norwegian synth gathering started in the autumn of 2007, and has later been arranged every autumn.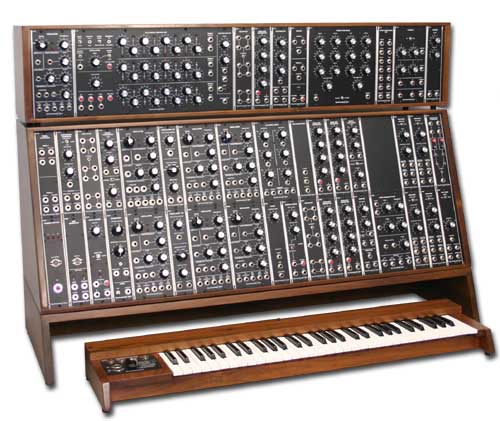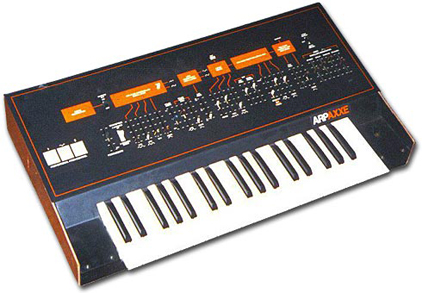 Program
The program is quite open. The whole purpose of the synth gathering is to meet other people and instruments, try synthesizers, and enjoy the sounds and music. There is free coffee, but if you are thinking to stay for a while you may want to bring your own food (there is a kitchen at Notam).
schedule:
10:00 Get-in, set-up, getting ready (it's okay to come later)
11:00 Official opening of the synth gathering
12:00 Presentation of new and and old analog synthesizers – comparisons!
1:00 Mingling, testing, pressing buttons, twiddling
2:00 Demonstration of possibilities with analogue modular synthesizers
5:00 The end
Content – what to expect at the synth-gathering:
Large, modular analogue synthesizers. Try to patch your own sound
Good old analogue synthesizers from the 1970s: Moog, ARP, Korg, Roland and many more
Hyper Modern analog synths
Hybrids and unknown variants
Self-made synths (DIY)
Lots of synth music, noises and other things that inspire imagination
Posts and discussions on analogue synthesizers
Knobs, ratters, pots, cables, buttons, switches, cables and connectors suitable for everyone
Music – both live and on CD. You can buy synth music, so feel free to bring some cash
Contests! With prizes!
What is Synth DIY?
Do It Yourself (DIY) alludes to that many today are building their own synthesizers, either from kits or by designing their own electronic circuits and build everything from scratch. This was once secrets and protected information between manufacturers, but today readily available information. Worldwide there is great activity in this area. On the synth gathering we will showcase a lot of alternatives, and perhaps build something during the day?
 This is a video of similar happenings, other places
What is required?
Remember to bring your headphones! The gathering is open to anyone interested in analogue synthesizers, whether you build yourself, use synths, own some, or simply have an interest. There is a lot of activity in this field around the world, and gatherings are found in England, the Netherlands, Germany, USA and many other countries. In Norway the interest in analogue synthesizers is big and increasing. The Synth gathering embraces beginners, students, hobbyists, professionals and experts alike. Whether you just want to look, try out, experiment, twiddle, discuss ideas, build, play or want to discuss something with others, it suits fine. If you have; bring an analogue synth or two + headphones.

Practical
The gathering goes down at Notam in Sandakerveien 24D, Bygg F3 in Oslo. Follow the link for a map and explanation of how to get there. During the past synth gatherings we have heard about several who had interesting instruments, but who were unable to transport them. Let us know if you need help with transportation.
If possible, please feel free to bring:
Ancient synths
A complete home built system or synth
An incomplete, partial, or botched construction project
All possible and impossible DIY projects
Kits (we have soldering irons!)
Classical, modular analogue synthesizers like the Moog or Buchla
Modern modular synths
Compact synthesizers, both classic and modern
Analogue synths, virtual analogue and similar
Synth players
People who stare and twiddle the synths
People who enjoy the sight of beautiful analogue synthesizers!
Registration is done by sending mail to Terje Winther. It's free to join and we provide free coffee, but arrange your own food. At enrollment tell us what you bring, and what you may need. We provide electricity and tables. Feel free to bring a keyboard stand, as we might need all the space possible!

Registered participants
Ove Alexander Dahl – Korg Minilogue og Dreadbox Hades
Andreas Eriksen – Roland SH-5 med sequenser Korg SQ
Michael Nino Evensen –
Joakim H. Fossum – eurorack-system og Akai AX60
Asbjørn Blokkum Flø – Metasonixmoduler styrt av Ableton Live via Expert Sleepers moduler
Espen Beranek Holm –
Cato Langnes –
Morten Lund – Yamaha CS-30
Kristoffer Momrak – digital Mellotron, M4000 D mini
Sveinung Myrnes – Korg X-911 Gitarsynthesizer
Ulv Nilsen – Akai AX-80, Novation Nova
Øivind Olsen – Serge modular (spiller også på konsert på søndagen)
ProLyd – Moog synther og moog effekter
Alexander Ramstad – eurorack modulkasse
Roland Norge – Boutique synther
Jarle Stensbye – Roland analog guitar synth GR-700 med programmer PG-200 (Roland JX-3P i guitar synth format) + Guitar/Controller G-707
Erik Stormer –
Pål Stubberud – Moon modular
Thomas Sæløen – Moog Sub 37
Jo Wang – Therevox ET-4.3 / lite modular system
Torgeir Wergeland Sørbye – Eurorack (Cwejman og Livewire) etc.
Terje Winther – Analog modular synthesizer, strings synthesizer, Minimoog, hjemmelaget modular.
Marius Ystad – Axoloti
Nils Ødegaard –
(your name here: _______________________)
Mailinglist and mail addresses
A mailing list for Norwegian analogue synth folks exists at Yahoo:
NorSynth (Norwegian Analog Synthesizer Group); open to anyone interested in analogue synthesizers, either pre-built or self built, new or old synths. The language is Norwegian, and the group is thought to build up an environment for analogue synthesizers in Norway.
Group Email Addresses:
Mail message: norsynth@yahoogroups.com
Subscribe: norsynth-subscribe@yahoogroups.com
Unsubscribe: norsynth-unsubscribe@yahoogroups.com
List owner: norsynth-owner@yahoogroups.com
The Synth Gathering is supported by: